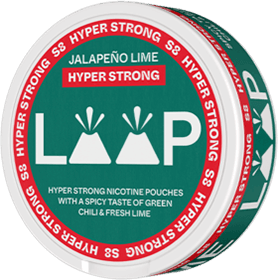 This is the Hyper Strong version of Loop Jalapeno Lime!
A combo of sweet and fresh lime with an exciting heat of peppery green jalapeño. Unexpected, but a completely irresistible combination.
This is quite sweet but has an acidity that gives balance to the sweetness and aromas.
The pouches come in the world's first eco-friendly snus can and they are playful as their logo comes with different designs.
| | |
| --- | --- |
| BRAND | |
| SNUS TYPE | |
| STRENGTH | |
| NICOTINE CONTENT | 25 mg/g (15,6 mg/pouch)  |
| PORTIONS/CAN | 22 |
| SNUS SIZE | |
| MANUFACTURER | |
| CONTAINS TOBACCO | None |