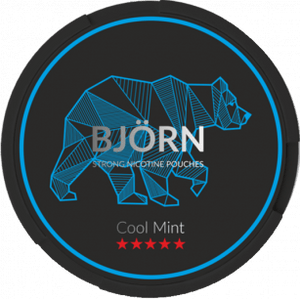 Björn is part of a new serie from the producers of 77 pouches.

Cool Mint has as you may see by the name, a flavour of mint with a high nicotine strenght of 32mg/g.
You'll get the same experience with Björn that you'd expect with a 77 product. The nicotine pouches are slim, light weight, and semi-dry to the touch.
| | |
| --- | --- |
| BRAND | |
| SNUS TYPE | |
| STRENGTH | |
| NICOTINE CONTENT | 32 mg/g |
| PORTIONS/CAN | 20 |
| SNUS SIZE | |
| MANUFACTURER | |
| CONTAINS TOBACCO | None |