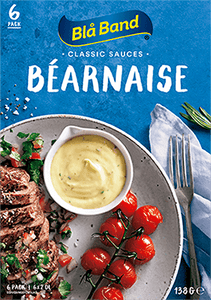 Blå Band's classic sauces help you to easily and quickly make your dinner a success. A favorite with many, thanks to the good taste and the easy cooking.
Store dry, not above 23°C. 
How to use:
1. Whisk the contents of the bag in a saucepan with 1.5 dl cold water.
2. Boil the sauce underneath stirring and let it simmer for about 1 min.
3. Remove the pan and add 50 g butter / margarine.
Whisk until the fat melts. Serve!

Content:
Sugar, modified starch, sunflower oil, glucose syrup, salt, aroma (including vanilla), MILK PROTEIN, dye (carotenes).

Nutritional value:
Per serving (0.5 dl) finished sauce*
Energy 500 kJ / 120 kcal
Protein 0.5 g
Carbohydrate 3 g
Carbohydrate of which sugars 0.8 g
Fat 12 g
Fat of which saturated 5.0 g
Fiber <1 g
Sodium 0.6 g
*Cooked with margarine (80% fat).

Allergens:
Milk
Soya
Egg
Lactose
Soy lecithin